Excavating Excellence Since 1973
When it comes to preparing your job site for construction, trust Lambert and Barr LLC to deliver efficient and exceptional excavation solutions. Whether you're building a new home or a commercial property, let our team prepare your land and help you build a strong foundation from the ground up.
For over 45 years, we have completed residential and commercial excavation projects throughout New Milford, CT, and Litchfield and Fairfield Counties. Once we finish the job, we can oversee and complete your entire new construction or remodeling project.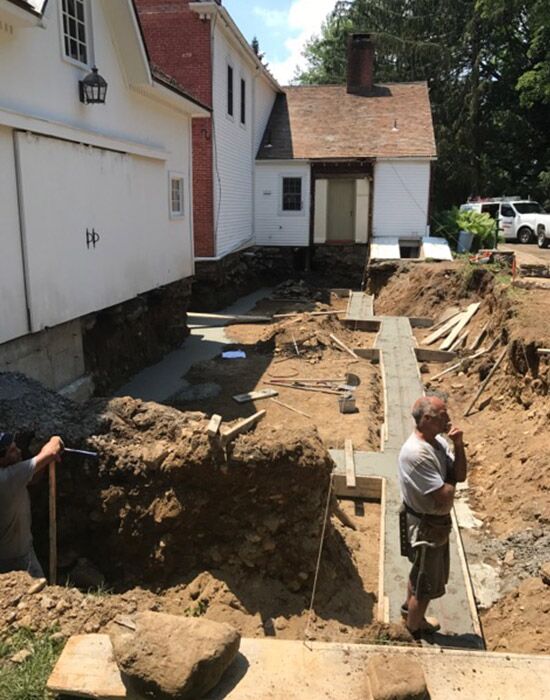 No excavating job is too big or challenging for the team at Lambert and Barr LLC. Our experienced team utilizes heavy-duty equipment to dig deep, install septic and drainage systems, and handle the toughest jobs. We are familiar with the variety of soil types and elements in Western Connecticut. We'll handle your job on an individualized basis and prepare your land for the most successful construction project.
Residential Excavation
Commercial Excavation
Site Work & Preparation
Foundation Construction
Septic System Installation
Drainage System Installation
Retaining Walls
If your multi-story building or medium to small-size home requires demolition, we have the experience, equipment, and capabilities to get the job done right. We can also optimize your land or job site for a strong foundation and a seamless construction process.
Demolition
Heavy Duty Landscaping
Debris Hauling
Excavation projects are not to be taken lightly. At Lambert and Barr LLC, we are here to answer your questions and help you make informed decisions regarding your excavating project. To speak with the Lambert & Barr team, please call
860-354-1811
.
How can you prepare your property for excavation?
Clear your site of any trees, shrubs, or existing structures ﹣ within your capabilities! You can let Lambert & Barr know what obstacles may be in the way. We have the equipment and expertise to prepare your site for excavation to the full extent.
What are signs you need a new septic system?
If you are experiencing slow drains, sewage backup, foul odors, or pooling water on your land, you may need a new septic system. We can provide an assessment of your current system and check for signs of septic system failure.
Do you need a retaining wall?
You may require a retaining wall if you need help controlling downhill erosion or managing water runoff. If you are building on a slope or in a hilly area, you're more likely to need a retaining wall. Our general contractor can help determine whether your project requires one, and if so, we can build it.
Do we provide foundation construction & excavation?
Yes. If you need to prepare your land for construction, we provide excavating services, foundation construction, septic system installation, and more. We have the expertise and capability to handle the entirety of your construction project.
"I just wanted to thank you for the very professional way in which you handled the replacement of our septic system. You did what you said you would do, when you said you would do it, which is what I expect from most people I have worked with time and again over the years, but is much more than most people manage. Of course, I appreciated your ability to get the job done quickly in the heart of winter, getting to an approved full system as we both wanted. What especially stands out, however, is the very nice clean up job you did on the work site, months later and exactly as promised after the weather warmed up. Thanks again."
For more information about our excavation services, contact us today.