Completing Your Project from the Ground Up
New Construction & Additions
Are you looking for a custom home builder to construct your forever house? Could your home or commercial property benefit from extra rooms and additional square footage?
When it comes to constructing a new home or building from the ground up, you can rely on Lambert and Barr LLC to complete your project from start to finish. Whether you're building an addition or a brand new home, we can reflect your lifestyle, meet your needs, and make you a proud property owner.
Based in New Milford, CT, we build new homes and properties throughout Litchfield and Fairfield Counties and the surrounding areas. We also perform foundation construction, masonry, concrete work, remodeling, excavation, and a full range of construction services for residential and commercial/non-profit projects.
Building a custom home is often the best option when it comes to making your dream home come to life. The possibilities are endless! Whether you want to put in an addition, install a modular home, or construct a brand new house from the ground up, the team at Lambert and Barr LLC will work closely with you to explore your options and oversee the entire construction and completion of your home.
New Home Construction
Home Additions
Paneled Homes
Structural Insulated Panels (SIPs)
Modular Homes
Commercial & Non/Profit Construction
Since 1973, we have served as our community's hometown general contractor, completing custom construction projects and additions for a wide range of commercial and non-profit clientele. From brick and mortar shops to churches, historic structures, and municipal buildings, there's no limit to what we can construct and build for our community.
As a family-owned and operated company, we look forward to helping your small business or non-profit organization. We look forward to helping you establish a foundation for future growth and success.
Commercial Construction
Commercial Building Additions
Construction & Additions for Non-Profit Organizations
New Construction & Additions
Additions and new construction projects are major investments of time, money, and resources. That's why Lambert and Barr LLC is here to help our clients understand their projects from the planning phase through completion. We encourage you to call us today at 860-354-1811 if you have any questions about the construction process.
How long does it take to construct a new home or building?
Project timelines depend on the size of the project, the condition of the lot we're building on, and what needs to be done to prepare the land for construction. Timelines vary on a project by project basis.
"I am most thankful for our new house and the wonderful people who built it."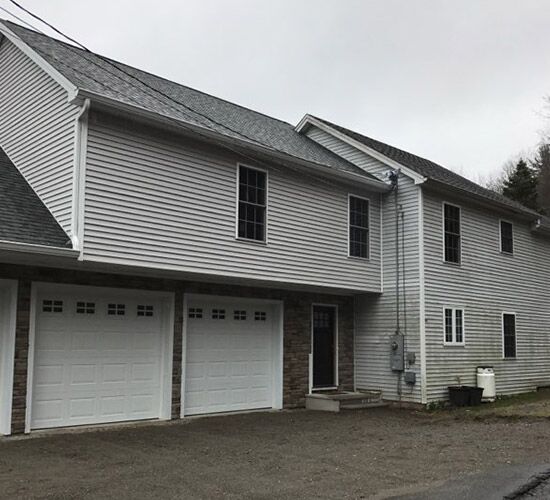 Request an appointment to discuss your new construction project!